14 Feb

St. Valentine's Day Table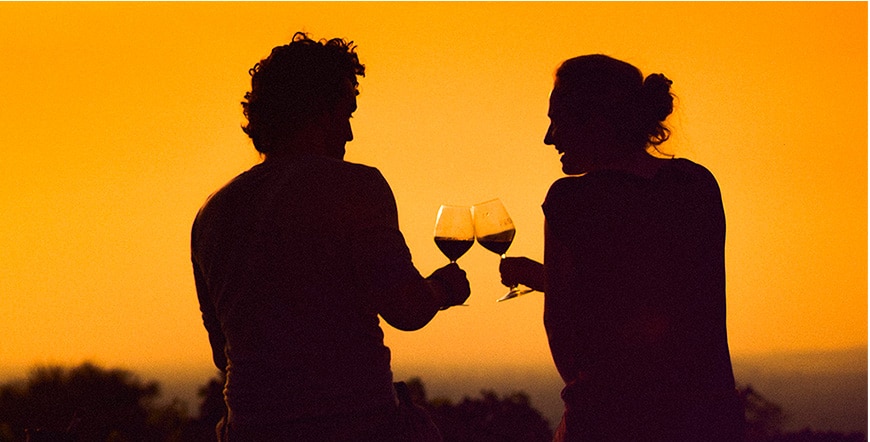 Love on St. Valentine's Day also includes good food: here are some recipes and suggested pairings with Cavazza wines.
On 14 February, St. Valentine's Day, we celebrate love, in all its forms, love that cannot exclude good food. Dishes to enjoy in a relaxed environment, either in a restaurant or at home, experimenting new recipes to be tasted in an unhurried manner to appreciate all their nuances: with the same care used to feed and keep love alive over the years.
And a good wine pairing is required for every dish, searching for the best match to enhance the dish but also to bring out the very best of the wine, that perfect liaison between the wine's aromas and flavours with those of the dish you are savouring.
Sometimes, this search is easy, but other times it is more difficult. Sommeliers are often faced with the challenge of finding the right wine to pair with artichokes, the basic ingredient of our recipe for our St. Valentine's starter: Insalata di Castraure. Renamed by many as the wine killer, artichokes are rich in cynarin, a natural chemical substance that gives this vegetable its characteristic bitter taste, especially if they are served raw, as in this case. We therefore suggest you choose a white wine, which is naturally low in tannins, as a tannin-rich wine would increase the bitter sensation. For instance? Bocara Gambellara Classico Doc 2021, a fresh-tasting, racy wine with fruit and floral nuances or, as an alternative, we would also suggest a bubbly Cavazza Prosecco Spumante Doc Millesimato 2021.
For your first course, why not try and prepare some home-made pasta?  The recipe for Tagliolini fatti in casa al burro d'ostrica is perfect if matched with our Creari Gambellara Classico Doc 2019: its volcanic characteristics, which are immediately apparent when you first sip it, bring to mind the full-flavoured taste of shellfish; the soft part, including the alcohol (13%vol.), can counter the greasiness of the dish given by the butter. And between mouthfuls bring your glass to your nose: you will notice that this wine opens up, slowly revealing its various layers. After the very ripe fruit-laden overture, as it breathes, you get whiffs of hot spices, like vanilla and saffron, bringing to mind pastries, raisins and candied citrus.
Our table on St. Valentine's Day should also reserve some space for traditional Veneto dishes: a good Baccalà mantecato as a main dish is always an excellent choice. Cod meat is appreciated for its leanness, but its characteristics are often modified by various processes and the use of ingredients that enrich its flavour. In this revised version we have milk, onion, anchovies and tomatoes. In our opinion, the perfect match for this dish is a Cavazza  Tai Rosso Colli Berici Doc 2020.  The young, bright red wine has a typical scent due to the red berries of the Tai grapevine: the most prominent being raspberry, followed by wild strawberry, blueberry, morello cherry and blackberry. This fruit is also found in the flavour, coupled with a good tanginess and delicate tannins that go well with the texture of the dish.
To top it all….  We then move to Vienna with a Sacher Torte, but always matched with a wine from our area, which is the 'crown jewel' of the Gambellara Doc appellation, Selva Vin Santo di Gambellara Doc 2004. "A tribute to our Land", as indicated on the front label, this wine has been produced for 18 years and it will not be overwhelmed by the cake's rich chocolate flavour. Its deep, dark, impenetrable amber colour is typical of the concentrated must and oxidation which occurs during its ageing. On the nose, it opens with rich, layered, breath-taking nuances of raisins, dried figs, walnuts and honey, followed by scents of dates, quince jam, toasted almonds, dried apricots, candied citrus and vanilla on an undertone of coffee and other oxidative overtones. The alcohol content (14%vol.), together with the soft, velvety and silky sensations, make it a perfect wine to finish off your St. Valentine's dinner.
Share your pics with
#cavazzawine