11 Feb

February, the awakening begins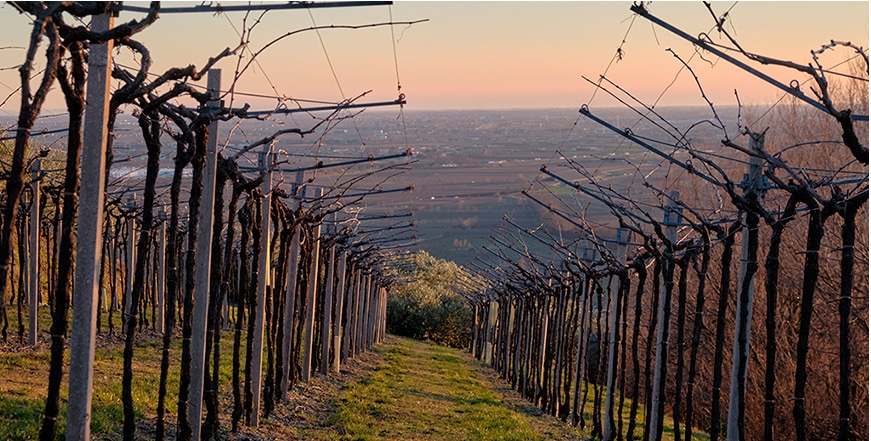 February is a time of new life, both in the vineyard and in the cellar.
In February the days start getting longer, the air becomes warmer, sunrays start hitting the earth at a steeper angle, thus the amount of energy hitting surfaces increases.
In the vineyard, the blanket of dry leaves, which in summer covered the vine rows, begins to make way for a light layer of grass. The lovely green colour begins to spread. First slowly, then markedly, the sap is once again pumped to the bare, recently pruned canes.
The gelatinous clear liquid is often evident exuding from newly pruned wounds. It tells us that the vine is awakening and is preparing to bring out the energies of spring that is on its way.
There is also new life in the cellar: white wines made from grapes harvested the previous year start to be bottled. At the Cavazza winery, it is the turn of Bocara Gambellara Classico Doc 2021. A single varietal white, Bocara is our purest, most clean tasting version of Garganega grapes harvested from our "Selva" estate in Montebello Vicentino, one of the six subzones of the Gambellara appellation.
Brilliant straw yellow, Bocara is a skilful blend of fruit and volcanic characteristics, like minerality. It has generous, crispy notes of white-fleshed fruit (pear) and yellow-fleshed fruit (peach, apricot). The volcanic terroir on which the grapes grow tinges the wine with wispy smokiness. When sipped, the wine reflects the profile on the nose, closing with a dry finish.
A wine that can be enjoyed as soon as it is released, but it will also enhance its characteristics as it ages.
With our new wines to taste, a new season for our spirit and mind is about to start: wine tasting characteristics to explore one by one that will make us experience new emotions.
Share your pics with
#cavazzawine