24 Nov

Stories from the Wine Cellar

The wine cellar is a workplace that is steeped in recollections. The recollections come back to life at harvest time, during the hustle and bustle, comings and goings of tractors, trailers full of grapes, rustling sounds of destemmers, presses and pumps, abuzz with activity! Living next to the wine cellar when I was young meant having a luna park open at all hours of the day for more than a month! It was great fun and thrilling to see the enormous quantity of grapes which, after the harvest, would be emptied into the hopper from the trailer! It was exhilarating every time, just like going on a roller coaster! Once the tractor arrived, it was weighed and then headed toward us and finally stopped in the required position. The trailer was then hooked to the tipping platform…3, 2, 1…BOOM! The heap of grapes was emptied! When we were young, we would jump up and down and clap enthusiastically! I can remember the noise of grape bunches beating in the hopper, splashes of must on our faces, stickiness everywhere! Only those who experienced this as a child can understand the excitement!
The days during the harvest seemed endless! Giancarlo, our father, didn't get home until 10 p.m. because he had to take care of the red winemaking processes. And so, after dinner, when the other children of my age were curled up in bed, I would ask my mother Graziella to take me to the wine cellar. I loved seeing dad climb up the ladders to reach the top of the red wine fermentation tanks. I thought he was a super-hero! He used to explain how he manually broke up the cap, which was formed during maceration. This would spark my curiosity and I would ask him if I could go up there too. I wanted to see the cap and what was happening inside the vats as I could hear a strange gurgling sound inside them. We could hear the noise only in the evening when the din of tractors and machinery had stopped. And my dad, with his tired but happy eyes, would come down the ladder, pick me up and take me up with him. And there we were, up there, looking at the world from another perspective! The point of view of the winemaker, the cellarman, the point of view of those who know how much work and effort there is behind a bottle of wine. How thrilling! I was really happy.
That is probably why I love making red wines. Crafting red wine is much more challenging. You can experiment more, implement your own winemaking project, which starts in the vineyard, tending the vines, and ends in a barrel cellar during the ageing phase. Reds reveal the soul of the winemaker, this is where you really perceive it. At least, I feel I express myself better in this area. Of course, whites too are appealing, but reds are more stimulating for a winemaker.
Take Fornetto, for example. This cuvée allows experimentation. Just like a perfumer who chooses the various fragrances to create the perfect perfume, we like blending together the various red berried grape varieties to obtain the right mouthfeel. Well-rounded, generous Merlot blends with the tantalising spicy, peppery notes of Syrah, also making room for 'our' Grenache, Tai Rosso, with its ripe raspberry character. I open it, uncork it, pour it, bring it close to my nose, I take a sip… Wow! I'm on cloud nine!
Mattia's recommendation: Try it with bigoli (a type of pasta) and wild duck sauce. A truly amazing pairing…
Many thanks to all of you, dear friends and customers.
Mattia Cavazza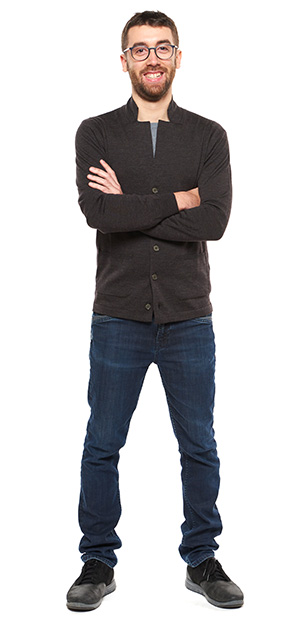 I'm Mattia, the son of Giancarlo, the winemaker. I belong to the 4th generation of Cavazza wine producers and, together with my cousins Stefano, Elisa and Andrea, I am continuing the family tradition, making wine with my father. My biggest passion besides wine? I love mountain biking! I think I know every path, hairpin bend and slope of the Colli Berici (a group of hills south of Vicenza), which is perfect territory for mountain-bike lovers like me!  Email me for some advice, not only on wines, but also on the bike routes you can try out in our area: mattia@cavazzawine.com. I have tons of things to do in the cellar, but I promise I'll reply as soon as possible!

FORNETTO
Rosso Veneto IGT
Special Cuvée of (50%) Merlot; (25%) Tocai Rosso; (25%) Syrah
Artisanal red blend. A limited production wine, handcrafted from the best and small single vineyard blocks of Merlot, Syrah and Tocai Rosso (indigenous local grape). The vineyards have an extension of 1.5 ha (3.7 ac) and face south/southwest, at an elevation of 180 m.
Discover more
Share your pics with
#cavazzawine