10 Nov

Our "San Martino"

When we decided to make our red passito wine in 2003, we knew exactly how we would call it: San Martino!
A seriously structured wine, whose name is deeply rooted in the past, just like the deep red color of the Merlot grape used to produce it.
Traditional tales narrate that on a cold, rainy day  ̶  the 11th of November, 335  ̶  Martino, a cloaked mounted soldier of the Roman Empire, while galloping on his horse, came across an old, cold and tired man dressed in rags. Martino, moved to pity, took his cloak, cut it in half with his sword and gave one half of it to the old man. Shortly after, as he galloped away, pleased that he made this charitable gesture, a bright sun came out and the temperature rose. This story gave rise to the tradition of celebrating the summer of San Martino, a short period during the first weeks of November characterized by good, warm weather.
The 11th of November is an important day in the farming world in Italy. In agriculture, the calendar does not follow the 'normal' calendar year, which ends in December. November is the month when the various activities finish. The month when accounts are settled, decisions are taken and conclusions are drawn. In November, all the crops have been harvested. The cereals, reaped in summer, already fill the granaries, barns and farmyards.  The grapes that were harvested have already been transformed into wine or they are drying out in the attics of houses. The wine that will be made from the grapes will help us put up with the cold winter weather. And the olives, those small precious gems  ̶  the last fruit to be harvested  ̶  are ready to be pressed and become thick-textured, scented oil.
Therefore, in November farmers had a general idea of how their farming season had gone. They were aware of the crop prices, the value of their wine or oils. The sharecroppers understood whether it was worth working a particular plot of land and they would ask themselves if it was worth renewing their land lease? Or would it be better to go somewhere else, where a more productive soil would give them better harvests?  So, that is why "Fare San Martin" in the Veneto dialect still means moving somewhere, changing your home. The meaning of the idiom actually comes from this, from the sharecroppers who, as they were unhappy with their harvests, would decide to "move" to another plot in November.
But let's go back to our wine estate, to our powerfully structured wine, our Merlot passito, which smells of cherries preserved in liquor, a compôte of sour cherries and redcurrants. The grape bunches picked by hand at Tenuta Cicogna in mid-September, after 2 months of drying in small boxes, are ready to be destemmed and pressed on the feast day of San Martino. Fermentation is followed by 18 months of aging in barriques, during which the already soft, silky tannins blend perfectly in the fermented juice.
And as usual, the 11th of November closes the farmer's year, therefore our San Martino wine will elegantly close your dinner and its lingering sweetness will be cherished long after your meal. Sweet dreams!
My recommendation: a highly evocative wine that can be enjoyed on its own as a sipping wine or at the end of a meal with hard cheese or, why not, with a piece of dark chocolate with 80% cocoa. Why not impress your guests by making it the real protagonist of their dinner? It is also a perfect match with braised meat or game.
Many thanks to all of you, dear friends and customers.
Your winemaker
Giancarlo Cavazza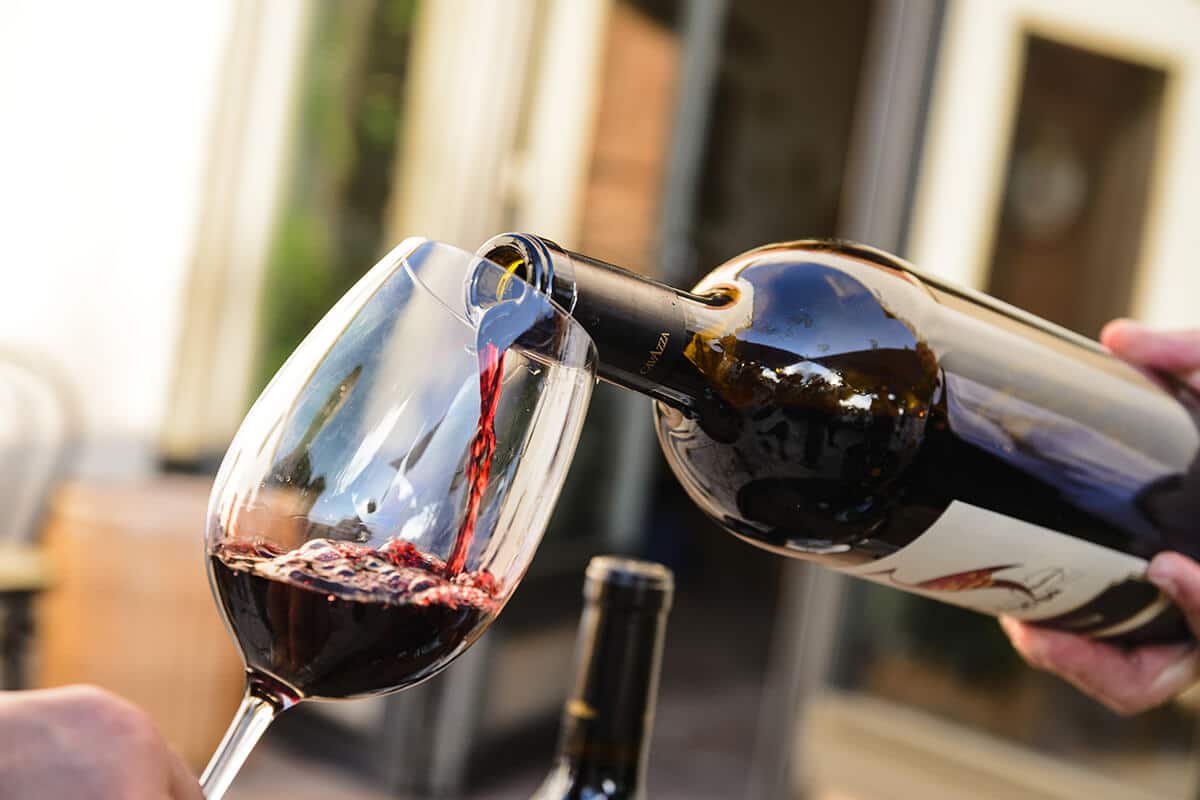 SAN MARTINO CICOGNA
Rosso Passito Veneto IGT
Merlot (growing in our area for more than 100 years)
A limited production wine harvested from meticulously selected small vineyard lots (3 ha/7.4 ac) on hilltops (190 m/623 ft) that are estate grown and carefully farmed. The grapes are handpicked and sorted at harvest time in order to create unique, artisan-style wines that reflect the craftsmanship involved in hands-on winemaking.
Discover more
Share your pics with
#cavazzawine