07 Dec

Fragrant Memories

Whenever I enter our wine cellar and smell the aroma of Garganega that has been left to dry for months in the picai, I am imbued with sweet, intense memories, just like Recioto's palate and bouquet.
I remember the skilful hands of my grandma, Agnese, who used to braid the grape clusters together… the delicate hands of a woman who had great expertise in the task because this was women's work. When I was small, she used to teach me how to tie those precious berries together, which looked like gold nuggets to me.
I used to watch her tie the Garganega grape clusters with the top part facing downwards onto the strings (also called picai) and this is when I started dreaming of following in her footsteps. I would let myself be guided by my grandmother and her hands, while I listened to stories that conjured up images of must and sun-drenched berries.
Even today, when we women, laughing and joking, make the picai in the wine cellar, I feel my grandmother near me, ready to give me important tips; her hands 'smelling' of smiles and grapes.
To this day, when pouring Capitel  ̶  our limited production raisin wine  ̶  into a glass, I am always mesmerized by this golden-colored wine.
With every sip, I relish my memories of the past: dried apricots that bring to mind summer sunsets, toasted almonds that smack of the delicacies made by grandma   ̶  who adored baking cakes  ̶  but also  dried figs, like those we used to gather from the tree behind our house, letting them shrivel up in the sun and then preserving them in alcohol.
The soft, velvety wine slides down my throat in a silky swallow, just like my cheeks that were caressed by my grandmother's hard-working hands when I was a child.
Infinite sweetness, as are the memories of loved ones who are no longer with us.
Elisa's recommendation:
Who said sweet wine is only suitable for desserts?
For a contrasting pairing, try it at the start of an important dinner with aerated foie gras on toasted brioche topped with apricot. It is superb also at the end of a meal, paired with blue cheese, or as the classic match with cantuccini!
Write me an e-mail (elisa@cavazzawine.com) or send me a WhatsApp message (+39 3472395161) if you want the recipes!
Many thanks to all of you, dear friends and customers.
Elisa Cavazza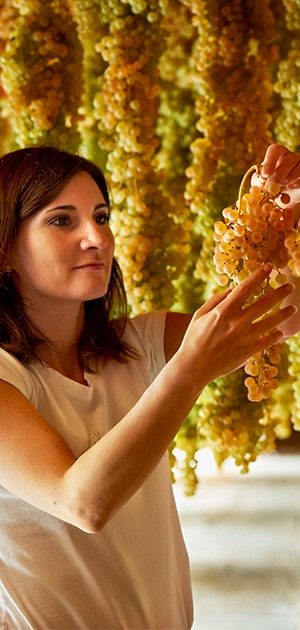 I'm Elisa, the daughter of Luigi (the guy with the moustache in the photo!). I belong to the 4th generation of the Cavazza family involved in winemaking and, together with my cousins Stefano, Andrea and Mattia, I am continuing the family tradition, taking care of the export side of our business.
My greatest pleasure?  I love traveling, exploring faraway cultures, getting lost in open-air markets of foreign countries ablaze with colours and awash with scents of spices. I am fluent in English and German, and I have a good knowledge of French. I recently became a mother as my first daughter, Gaia, was born just over a year ago. This has obviously changed my outlook on life, making it 'sweeter'.

CAPITEL
Recioto di Gambellara Classico DOCG
Garganega 100%
A limited production wine, from small lots of local grapes, that reflects the distinctive terroir of the Cavazza family's estate, and highlights the craftsmanship involved in our winemaking. Only the best handpicked grapes from favorable years are chosen to be dried naturally, then handsqueezed and bottled to become this unique raisin wine.
Discover more
Share your pics with
#cavazzawine